Targeted phishing emails are currently being sent to registered services.
Below is an example: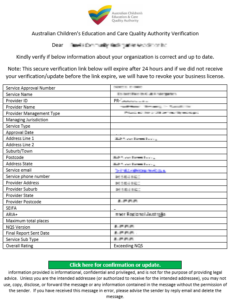 ACECQA have responded and instructed recipients:
This is NOT an official email from ACECQA.

It is a spam email that should be deleted – do not click on the link.

If you did click on the link in the spam email and provided your email address and password information, we strongly recommend that you reset your email or account password as soon as possible.
The example email has some of the following warning signs you should be watching for:
Unsolicited email requesting an action.

Demands the victim respond to a time based ultimatum i.e. "will expire after 24 hours".

Includes threats i.e. "to revoke your business license".

Has "scraped" publicly available information to target the victim directly.

Links to a fake site with a URL that differs from the real organisation's domain.

Links to a fake site that is not a .gov.au site.
Getting more support
If you have fallen victim to scammers you should follow the steps on the Scamwatch site here: https://www.scamwatch.gov.au/get-help/where-to-get-help.
You can also seek help from cyber support services like IDCARE https://www.idcare.org/.