FTTN – Fibre to the Node
FTTN uses a combination of new and existing technology to deliver the NBN. The NBN will run a fibre optic line to your nearest node in the street, and then use the existing copper wiring to connect the NBN to your kindergarten.
How do I apply for FTTN NBN?
Email nbn@kindergarten.vic.gov.au and request the application forms.
Remember to include the name of your kindergarten and its address when you send the email.
What happens to my internet while the installation takes place?
As FTTN uses existing copper lines, the old internet will continue to function until your appointment day. Once the technician changes you over to the NBN, you can plug your NBN modem in and continue to use the internet.
See below if you have multiple phone lines, or you already have NBN phones.
What happens to my phones while the installation takes place?
We order all FTTN services with "voiceband continuity", which means that your old phones should continue to work when the NBN is installed.
However, if you change your phone number to the NBN before the installation, your internet will stop working until we can organise the NBN to be installed (this can take several weeks).
To minimise interruption to your internet services, we strongly recommend that you allow us to organise your NBN internet before you change your phones.
Important: If you already have NBN phones, let us know before we try to connect you. If we try to run the NBN internet over your NBN phones, your phone connections will break. Also, if you try to run NBN phones over your NBN internet, your internet connection will break.
Where is the NBN equipment installed?
The NBN technician will do all of the work outside in the street.
No new equipment needs to be installed inside the kindergarten, other than your new modem if required.
How do I plug in my modem?
You will need to use a telephone cable to connect the xDSL port on your modem to the appropriate phone socket on your wall.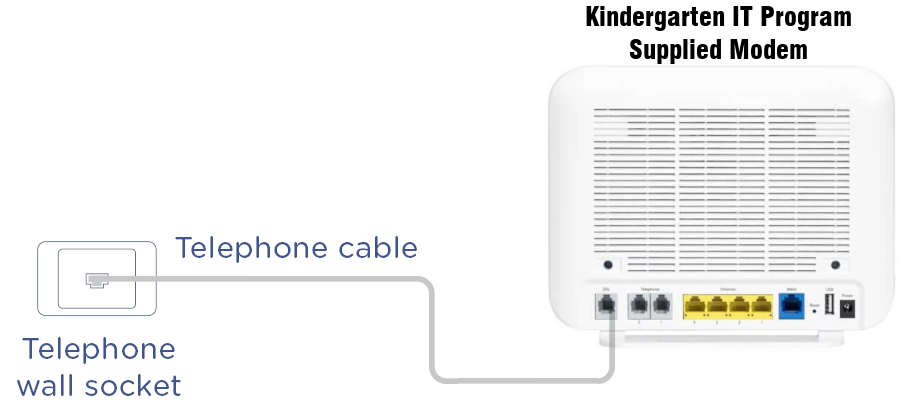 You can then plug your computers/printers in to any of the yellow ethernet ports on the modem, and connect to the WiFi using the details provided.
What if the wall socket is in an inconvenient location?
Your kindergarten will be required to engage an electrician or cable technician to run cabling to your preferred location. Your kindergarten will be required to cover all associated costs.
What if the NBN is installed but I can't use it straight away due to internal cabling issues?
Unfortunately, the Kindergarten IT Program can only provide one internet connection per kindergarten.
If you are unable to start using the NBN immediately, due to internal cabling issues, we expect your kindergarten to organise internal wiring within 3 months of your NBN installation.
After 3 months, the Kindergarten IT Program Coordinator will contact you and discuss which connection should be cancelled (ADSL or NBN).
How do I organise moving my phones to the NBN?
Once the internet is installed, it depends on how many copper lines you have running into your building. Ask your preferred telephone provider for assistance. You can also ask us to investigate this issue for you.
If you have more than one line, use one line for the internet and one for your phone – be sure to let your phone provider know which line is being used for the internet.
If you only have one line, which we are most likely using for the internet, your options include the following:
Investigate VoIP service providers, which work over the internet rather than copper lines.
Use the same provider that we use for the internet (Commander). Please contact us if you'd like further information about this.
Consider alternative phone services, such as mobile phones rather than a traditional landline.
If I change my phone provider, can I keep my phone number?
Yes, you can keep your phone number. Contact the new phone company and request a port. They will then contact your current phone company to arrange this. You can find out more information on the Australian Communications and Media Authority website.
More questions
We're here to help make your transition to the NBN as smooth as possible.
For more information, see our frequently asked questions (FAQ) page here.
If you can't find the answer to your query, or you require further information, give us a call on (03) 8664 7001 or Toll Free – 1800 629 835, or send an email to nbn@kindergarten.vic.gov.au.