Guided Access is a setting that allows you to temporarily lock an iPad into one App at a time. This is particularly useful if you are using the iPad with children; they can stay focused on the activity and won't be able to exit the game or access other features of the iPad until you unlock this feature with a pass code.
Note – This Tip is based on an iPad 2 IOS 7, different versions may vary. Guided Access is available in IOS 6 onward.
Enabled Guided Access on an iPad
Open the Settings App
Tap on "General", then tap "Accessibility"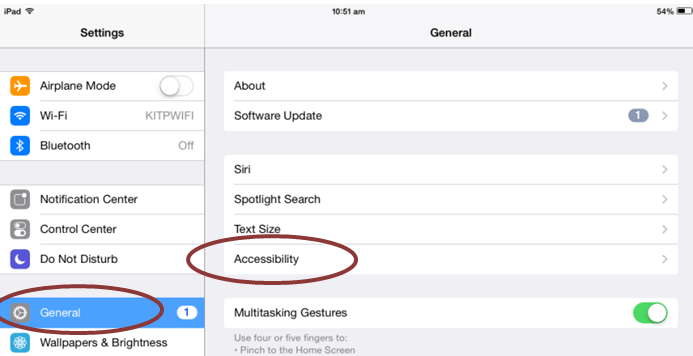 Scroll down to "Guided Access" and switch it on. Tap "Set Pass code" and type a 4 digit pass code (This can be different to your iPad lock screen pass code).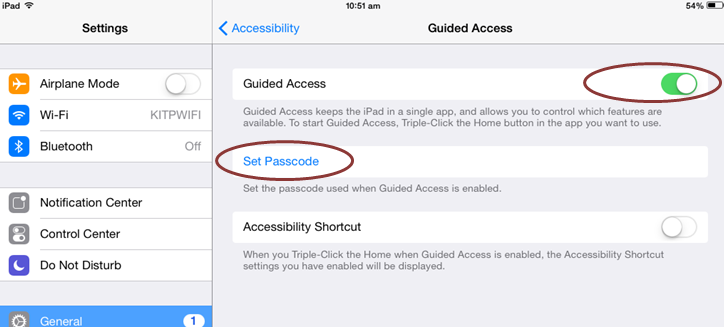 Turn on Guided Access on an iPad
Launch the App that you want to use, such as a game or story book
Triple-click the Home button (press the Home button 3 times quickly)
After triple-clicking the Home Button you will see the Guided Access screen, tap "Start" in the top right corner.
Turn Guided Access off on an iPad
Triple-click the Home button again
Enter the pass code to turn Guided Access off, tap "End" in the top left corner of the Guided Access Screen.