What is Evernote?
Evernote is a free program designed for note-taking and note-sharing. A note can be text, a web page, a photo or even an audio recording.
Evernote is installed as software on your computer or an App on your smart phone or tablet. Using an Internet connection it can sync your notes across devices including a Windows computer, smart phone, iPad, or tablet so no matter where you are working you can access all of your notes, research and resources.
With Evernote you can:
Create checklists
Scan physical paper notes
Have a things-to-do list and set reminders
Take screenshots on your phone and email them to Evernote
Organise notes into folders and search notes
Share your notes with others that log into the Evernote account.
Data storage and access
Evernote stores notes on the user's local computer. When Internet access is available notes are automatically synced across other devices. If the Internet connection is not available you can still view, edit and input data.
Security
As with any file-sharing (cloud) tool across the Internet, it's important to be aware of potential security risks. Anyone who obtains the username and password has access to your notes.
Evernote servers are not encrypted which means there is potential for hackers to gain entry to your Evernote account. So Evernote is not suitable for storing sensitive or confidential information, but it can be useful to share non-sensitive notes with friends, family members or colleagues.
Task 1: Create an Evernote account
Go to the Evernote website https://www.evernote.com and select Sign up (where you can download a paid version or more restricted free version).
Enter your email address and a password and click on Register. Remember to keep a record of your account details. You will be sent a confirmation message to the email address you signed up with. Click on the link in the message to activate your account.
When you begin using Evernote you will see a screen that looks like this: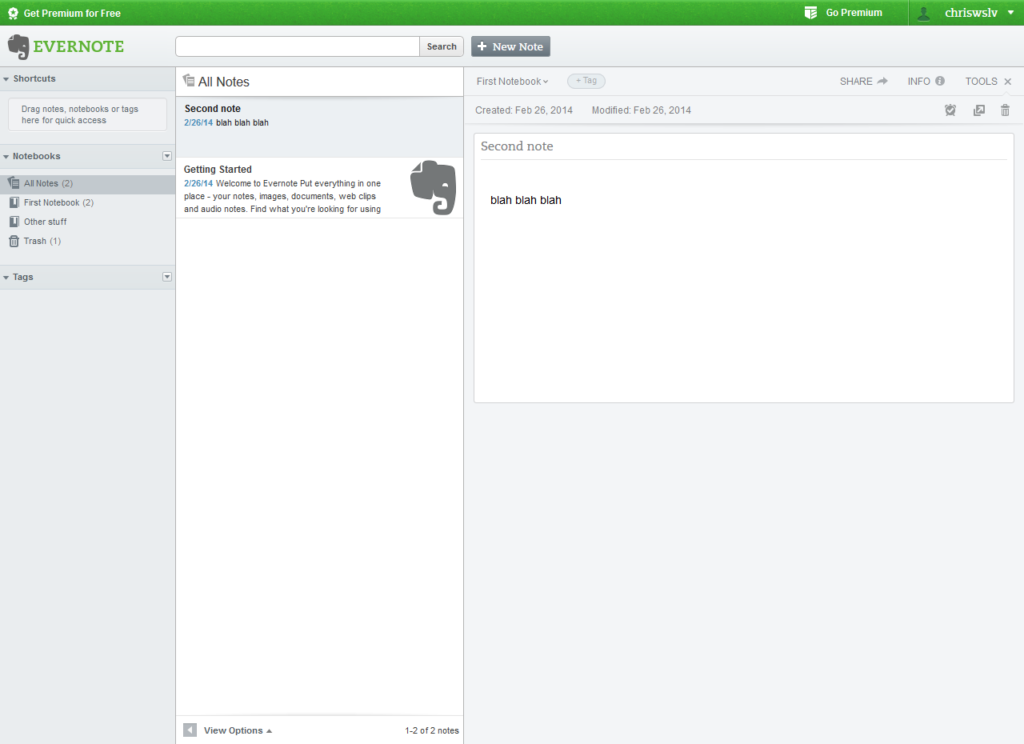 Task 2: Create a note
Use the following steps to create your first note:
Click on the New Note button
Click in the untitled section to add a title to your note
Press tab key to enter some text in the body of the note
Evernote saves your note automatically and it will appear in the list of All Notes.
Task 3: To share a note:
Evernote lets you share your notes with other people in a variety of ways:
Click on Share. You will see a drop down list of ways to share your note.
Click on the method you would like to use to share your note.