(Instructions are based on Microsoft Word 2007, but are similar in Microsoft Word 2010).
Use the Mail Merge step-by-step Wizard when you want to create a set of labels or documents such as a standard letter that is sent to multiple recipients.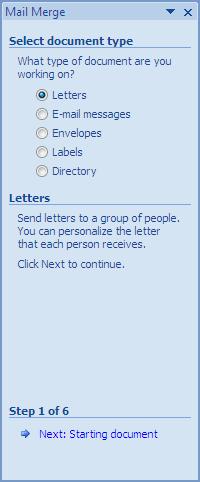 You will need: 1) A letter or blank document. 2) Your recipient information (name, address) stored in a separate file, such as an Excel Spread sheet.
Open your Word document, you can begin with a blank document or you can write a letter
Go to the Mailings tab
Click on Start Mail Merge, then Step by Step Mail Merge Wizard
Step 1: Select document type
Select the document type (Letters, Labels)
Click Next: Starting document
Step 2: Starting document
If you're creating Letters select Use the current document
If you're creating Labels, click Label Options. Select the Label Vendor and Product Number (this information is found on the packet of labels that you will use (Avery A4/A5, L7159).
Click OK.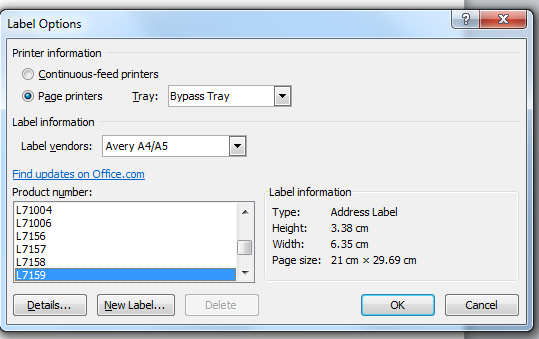 Click Next: Select Recipients
Step 3: Select the Recipient List
In this step you will locate your file of recipient information (name, address). This can be stored in a Word or Excel file, where each row contains individual recipient information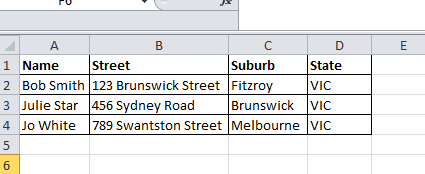 Select Use an existing list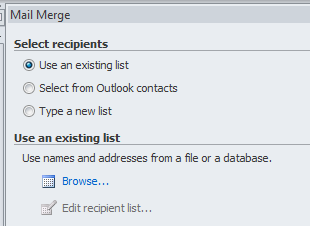 Click Browse and locate the existing file on your computer
Select the file, and click Open, if it is an Excel file, select the sheet (worksheet), click OK
Review the data source and use the check boxes to add or remove recipient details from the merge
Step 4: Write your letter/ arrange your labels
In this step you will choose which fields to merge into the document and where they are positioned.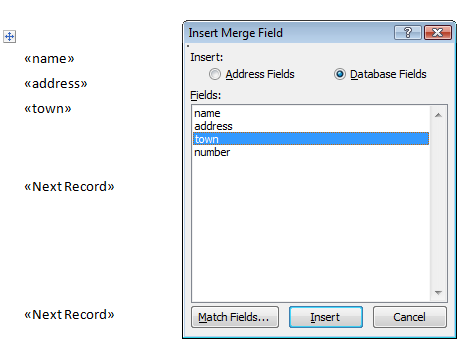 To add the recipient information, place the curser at the desired point then click on 'More items' select each merge field and click Insert. Click Close.
Rearrange the position of each field until you are happy with the layout
If your creating Labels, click 'Update all Labels'
If your creating Letters write the letter but don't touch the merge fields which appear surrounded by chevrons (<< >>).
Step 5: Preview your letters/ labels
Click on Next Record or Previous Record to preview each individual letter. If it doesn't look right, return to Step 4 to edit the fields to be merged and remember to update labels with the fields to be merged.
Step 6: Complete the merge
Here you can Edit individual letters and click OK to save the letters
OR
Click Print then OK to print the letters/ labels.