One of the tasks for kindergarten staff is sharing digital photos with groups of parents.
Emailing photos can be time consuming when you try and send too many photos at once, as email programs struggle to send emails when the size of the attachments is too large.
There is a quick way to select photos, compress the file size and send them by email, using the Windows Photo Gallery Program.
Browse to your photos into Windows Photo Gallery
Windows Photo Gallery instantly finds photos in your Pictures folder. You can add other photos stored on your computer by right-clicking on the Folders directory in the left panel, then select "Add Folder to Gallery"
Select your photos
There are many ways to select and sort photos in Photo Gallery, such as selecting "Recently Imported". You can also right click in the gallery pane to see more sorting options.
In our example we've selected the dolphin images. To select photos, click in an empty area of the Gallery Pane to make sure no photos are selected, then hold down the control (Ctrl) key and left-click on each of the photos you want to select.

We have now picked the images to send, you can see they are highlighted blue in the screenshot above. As a rule, avoid attaching more than ten photos to one email as the size of the files may be too large to send.

Attach files
Photo Gallery also has a single click button to attach your photos to an email. Click the email icon on the top menu (on more recent version of Photo Gallery the email button is found on both the Home and Create ribbons).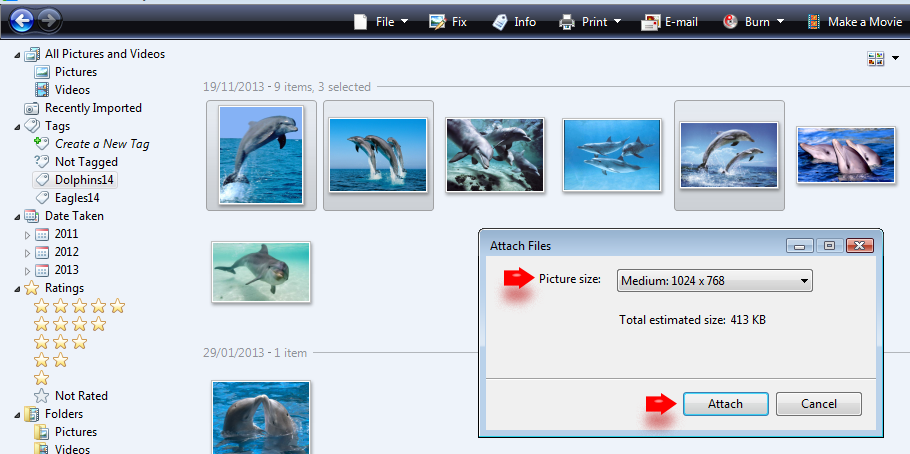 The helpful Attach Files pop-up will appear. Select an appropriate Picture size from the drop down and you will see an estimate of the total email size – keep this below 2 meg (MB) and you shouldn't have any trouble sending emails.
Once you have chosen a size, click the Attach button.
Photo Gallery's email button works automatically with either Windows Mail or Outlook. If you use another email program like Thunderbird you will need to tell Photo Gallery to use the program.
Send the email
All that is left to do is add the destination email addresses and fill out the subject and body of the email. In Windows Mail, click the "To" button and select the appropriate email addresses or contact group.